Download the official City of Falls City, NE mobile app |
Tuesday, June 13, 2023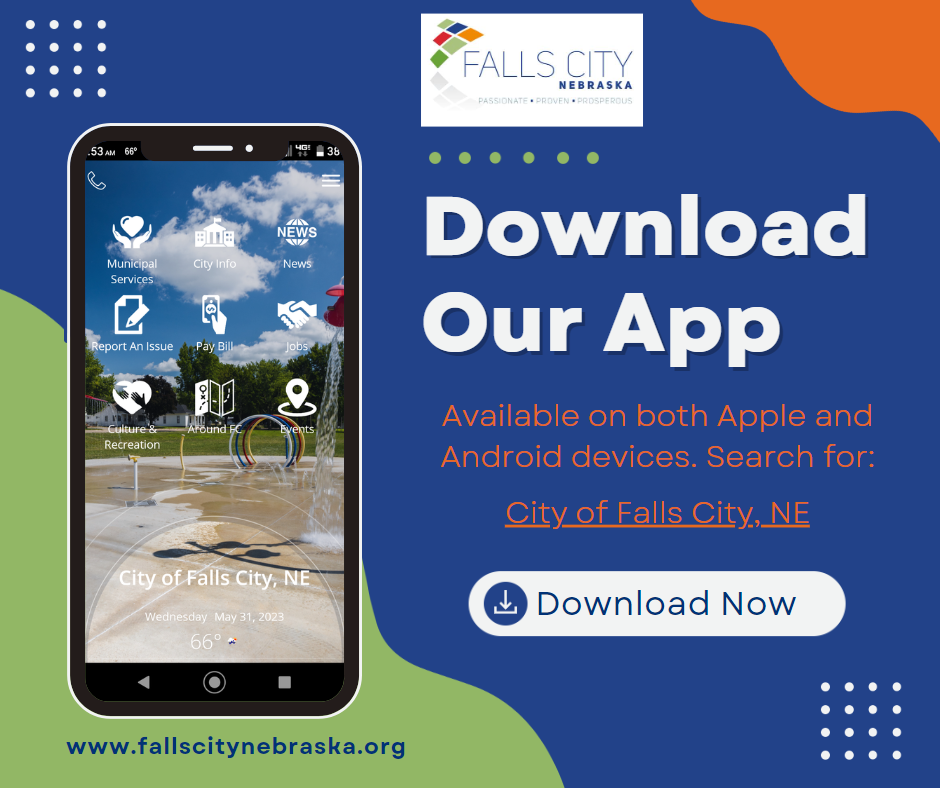 Introducing the City of Falls City, NE Official Mobile App!
Stay connected with your municipality like never before with our brand-new mobile app. Whether you're a resident, visitor, or business owner, our app is designed to provide you with seamless access to all the services and information you need. Download it today and experience the convenience at your fingertips.
Key Features:
News and Updates: Get the latest news, announcements, and updates directly from the municipality. Stay informed about events, public notices, and community initiatives with optional push notifications.
Service Requests: Submit service requests right from your phone. Report issues like potholes, streetlight outages, or other maintenance needs, and track the progress of your request.
Events and Activities: Discover exciting events and activities happening in your municipality. Stay connected with your community and never miss out on what's happening around you.
Alerts and Notifications: Receive real-time alerts and notifications to stay informed. Get notified about road closures, or any urgent information from local authorities.
Bill Payments: Conveniently pay your utility bills, property taxes, parking fines, and other municipal fees securely through the app. Say goodbye to long queues and payment hassles.
Local Business Directory: Find and support local businesses in your municipality. Explore a comprehensive directory of shops, restaurants, services, and more.
Community Feedback: Share your feedback and suggestions with the municipality. Your voice matters, and we are committed to improving our services based on your input.
Download City of Falls City, NE Mobile App now:
https://play.google.com/store/apps/details?id=com.civicapps.fallscityne
https://apps.apple.com/app/city-of-falls-city-ne/id6450063713
Category: Announcements, News, Alerts