Falls City Offers a Convenient Heartland Location for Manufacturing & Distribution Companies
Monday, September 14, 2020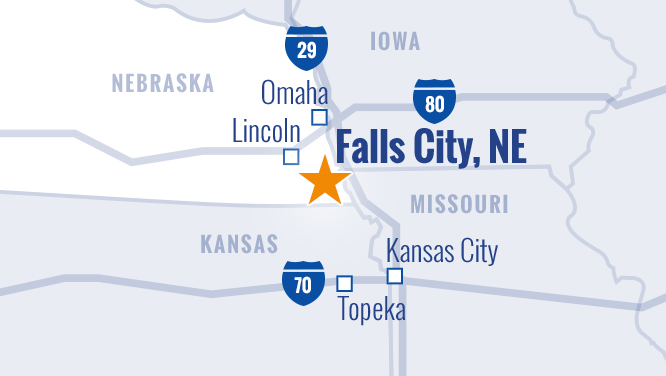 Manufacturing companies looking to onshore or to expand within the central United States, should consider a location in Falls City, Nebraska. Distribution companies will also benefit from Falls City's prime location. Strategically placed at the center of America's heartland, three major metropolitan areas are less than two hours away: Kansas City, Missouri, Topeka, Kansas, and Omaha and Lincoln, Nebraska. Using I-29, I-80, I-70, and the highways that they connect to, trucks can move products throughout the country and into Canada or Mexico.
Reach major metropolitan areas from Falls City
In addition to Kansas City, Topeka, Omaha and Lincoln being just two hours away, businesses can reach these other major cities within a day or less.
Sioux Falls, SD in 4 hours
Tulsa, OK in 5 hours
Fayetteville, AR in 5 hours
St. Louis, MO in 5.5 hours
Minneapolis, MN in 7 hours
Chicago, IL in 8 hours
Dallas, TX in 8 hours
Madison, WI in 8 hours
Indianapolis, IN in 8.5 hours
Denver, CO in 9 hours
Rail transportation options provide alternatives for companies looking to move raw materials and finished products throughout the country or to waterports for transportation internationally. The railroads serving Falls City are Burlington Northern Santa Fe and Union Pacific Railroad.
Use the Falls City airport to go places quickly
Falls City has a unique asset that isn't found in many smaller communities - a commercial airport. The Falls City airport offers daily flights that connect to destinations throughout the entire United States. With a 75' X 4000' runway with north and south taxi lanes the airport can accommodate both private and commercial aircraft. Flying in and out of Falls City is much easier than using a major airport because the parking is always free, there are few to no lines and the service is friendly.
Those looking for additional options can fly out of the Kansas City International Airport, located just 91 miles away.
Falls City utilities are reliable and affordable
Falls City has invested in utility infrastructure, recently completing upgrades to ensure that the electric and water supply, for example, can support continued growth.
Electricity
Supplier: Falls City Utilities
KW capacity: 21,116
KW peak demand: 15,100
Natural Gas
Natural gas service available from Falls City Utilities
Water
Water supplied by Falls City Utilities
Source of city water: 3 wells and 1 horizontal collector well
Capacity of water plant: 1,500 gallons/minute
Average consumption: 750,000 gallons/day
Peak consumption: 1,400,000 gallons/day
Storage capacity: 2,000,000 gallons
Hardness (ppm): 175
Treated: Yes
Broadband
Southeast Nebraska Communications offers traditional internet and fiber optic broadband
Time Warner offers broadband internet and cable
HughsNet is a third internet provider
Manufacturing companies should consider a Falls City location
For companies in search of a location in the heartland of the United States, Falls City is an ideal location. Being centrally located to major cities in the north, south, east and west, Falls City offers businesses the opportunity to expand their customer base and shore up their distribution chain. For more information, contact us.