Parks
---
Aquatic Park
---
North entrance of town on Hwy. 73
---
Opened August 9, 2006. Some of the features include two water slides, lap pool, two diving boards, water canon, flower showers and zero depth entry area. There are shelter areas and attractive landscaping.
Daily admission:
Ages 13 and up – $4.00
Ages 4-12 – $3.00
Ages 3 and under – free with paid admission (13 and up)
Family Season Passes:  $150.00**
Individual Season Passes:  $70.00
Ten Swim Ticket:  $25.00
60 and up - $3.00 or $50.00 Season Pass
Twilight swimming  - 6:00pm-8:00pm - $2.00 or 10/$20.00 punch card
*Family Pass is limited to four individuals – minimum of one Adult with a maximum of two Adults on pass.  Additional family members may be added at $25.00 per person.
2016 Falls City Aquatic Center Swim Lesson Sign-Up
Phone 402.245.3214 for information.
---
Candlelight Cabin
---
West 25th Street
---
The park's main feature is the  renovated Candlelight Cabin. This beautiful facility is available from 8:00 am to 11:00 pm each day year round. Rental fees are: $30.00 for 8:00 am – 4:00 pm OR 4:00 pm – 11:00 pm / $50.00 for all day. To make cabin reservations, or for more information, call the City office at 402.245.2851.
---
Dallas Jones Memorial Park
---
13th and Barada Streets
---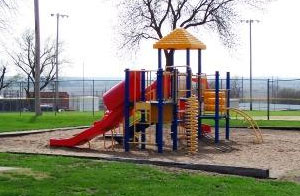 This multi-use park includes a playground, tennis courts, horseshoe pits, picnic shelter, softball/baseball complex and the Saddle Club Arena.
In the summer, it is the host site for such events as Falls City Recreation and American Legion ballgames, rodeos, demolition derby and truck and tractor pulls.
---
Grandview Park
---
12th and Morton Streets
---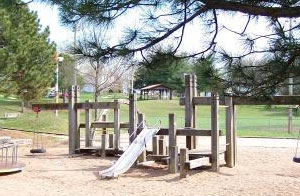 Features of the park include a tennis court, ball field, basketball court, picnic shelters and playground.
---
Legion Park
---
21st and McLean Streets
---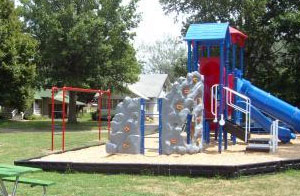 This park features a tennis court, ball field, basketball court, a picnic area and new playground equipment.
---
Military Park
---
7th and Harlan Streets
---
This park is dedicated to our service men and women who have proudly served our country. On display is a ship's anchor, to represent the Marines, Navy and Coast Guard; a tank and Howitzer, to represent the Army and National Guard; and a B-17 bomber prop, to represent the Air Force and Air National Guard.
The park is paved with memorial bricks for our service men and women. As well, there is a very nice picnic shelter. This park was created by our late mayor, Marshall Maddox, a Vietnam combat veteran.
---
Mini Park/Historic Murals
---
1500 Block of Stone St.
---
Dedicated in August, 1984, these murals depict the history of Falls City from its settlement in 1857 to present day.
---
Pioneer Park
---
18th and Barada Streets
---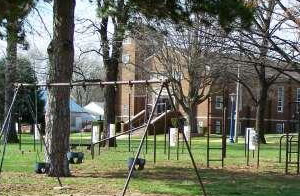 This park includes a tennis court, basketball court, exercise course, playground and picnic tables.
---
Skate Park at Pioneer Park
---
19th and Barada Streets
---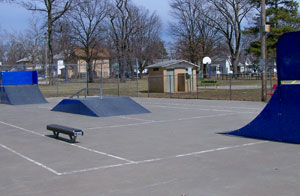 This park opened in February of 2008 with the generous donations from the City of Falls City and The Richardson Foundation Inc.
---
Stanton Lake Park
---
West 25th Street
---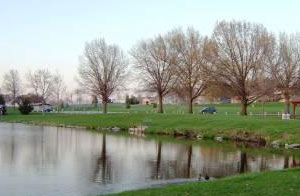 Trailer hookups for water, electricity, and dumping station; also features a bath house, lake fishing, picnic areas, sandlot volleyball courts, a new dog park and a  playground area. It is located next to the Itha-Krumme Arboretum.  The Candlelight Cabin is available for rent 8:00 am to 11:00 pm.
Tents are $5.00 per day.
Campers are $20.00 per day.
For hookup reservations and information, call the City office at 402.245.2851.
Brownville Concert Series
The mission of the Concert Series is to bring professional live performance to Southeast Nebraska. The program is varied and includes classical instrumental, Cabaret performances based on the American Songbook, Jazz (instrumental and vocal), Rock and Roll, Bluegrass, Vocal Recital, Opera and a specially commissioned Christmas Gala. Learn More
Find a Home for these Pets
Please visit the website of The Humane Society of Richardson County to see the animals available for adoption. Homes are urgently needed! Click here to learn more.