Library and Art Center
---
1400 Stone Street
Falls City NE 68355-2199
Phone: 402.245.2913
Hours: Monday – Thursday: 10am – 8pm, Friday: 10am-5:30pm
Saturday: 9am -12pm
(Closed on major holidays)
info@fallscitylibrary.org
Falls City Library homepage
---
The Falls City Library and Art Gallery has a collection of over 33,000 items. The collection includes books, magazines, computers, video cassettes, audio cassettes, games, puzzles, and a large selection of decorator cake pans (rather unique). Twenty new Internet accessible computers, a scanner and color printer are offered to the public.
The library serves as the research center for the Tri-State Genealogical Society. The Society has been integral in developing the collection of local history materials. Microfilm of nearly all Richardson County, Nebraska newspapers and census records are available, along with many published historical books and family histories. Members of the Tri-State Genealogical Society have always been extremely valuable in helping visiting genealogists trace their local family documents.
The library staff are united in our philosophy of encouraging children to become patrons of public libraries. We believe that library skills achieved early in life are an asset to any individual, and that reading is instrumental in the life-long pursuit of happiness. Our children programs have been developed to encourage families to take advantage of our year-round offerings for children starting at age three.
One of the most distinguishing features of the library is the permanent collection of artwork by area artists including Miss Alice Cleaver and John Philip Falter.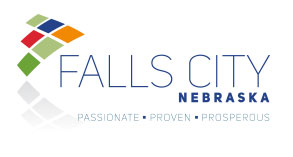 Famous Falls Cityans
Magicians, atheletes, artists and governors all once called Falls City their. Learn more about famous Falls Cityans by clicking here.
Brownville Concert Series
The mission of the Concert Series is to bring professional live performance to Southeast Nebraska. The program is varied and includes classical instrumental, Cabaret performances based on the American Songbook, Jazz (instrumental and vocal), Rock and Roll, Bluegrass, Vocal Recital, Opera and a specially commissioned Christmas Gala. Learn More
Find a Home for these Pets
Please visit the website of The Humane Society of Richardson County to see the animals available for adoption. Homes are urgently needed! Click here to learn more.