Our Community
---
Climate
---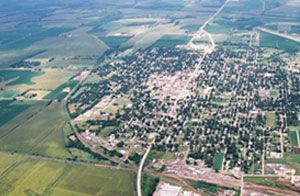 Average Daily Temperature (Degrees Fahrenheit, Low/High):
January (14/35)
April (40/66)
July (65/92)
October (42/68)
Average Annual Precipitation: 35 inches
Average Snow Fall: 23 inches
---
Commercial Services
---
Industrial
3 machine shops
Tool and die service
Electric motor repair service
Media
Newspaper: Falls City Journal – Published on Thursdays – 402.245.2431
4 TV channels received without cable
Cable antenna television serves city
Cable Services include: Roadrunner (high speed internet); Digital Cable, Multiple Pay-per-view Channels, and I-Control Video-on-Demand in addition to local channels.
Churches
Protestant – 21
Catholic – 1
No Synagogue
Motels & Hotels
3 motels and hotels available
67 rooms available
Financial
4 banks
Chamber
Manager is full-time
9:00 AM – 5:00 PM
Monday – Friday
---
Population
---
2010 Census
City: 4,325
County: 8,363
---
Location
---
Distance in miles from:
Topeka, KS: 90
Kansas City, MO: 108
Omaha, NE: 104
Lincoln, NE: 104
Wichita, KS: 230
Des Moines, IA: 225
Minneapolis, MN: 465
St. Louis, MO: 350
Chicago, IL: 557
Los Angeles, CA: 1,599
Dallas, TX: 569
New York, NY: 1,300
Denver, CO: 559
Atlanta, GA: 909
---
Municipal Services
---
Type of local government: Mayor/City Council
Comprehensive City Plan: Yes
City zoning ordinance in effect: Yes
County zoning ordinance in effect: No
Number full-time fire department personnel: 2
Number volunteer fire department personnel: 30
Fire insurance class: In city – 4.7, Outside city – 5
Rescue Squad Emergency/Medical Technicians: 28 EMT(s)
Number of full-time city police officers: 8
Garbage service provided: Private
Public library in city: Yes
Percent of city streets paved: 97%
Find a Home for these Pets
Please visit the website of The Humane Society of Richardson County to see the animals available for adoption. Homes are urgently needed! Click here to learn more.
Brownville Concert Series
The mission of the Concert Series is to bring professional live performance to Southeast Nebraska. The program is varied and includes classical instrumental, Cabaret performances based on the American Songbook, Jazz (instrumental and vocal), Rock and Roll, Bluegrass, Vocal Recital, Opera and a specially commissioned Christmas Gala. Learn More