Mayor's Welcome
Falls City is a progressive community anchored by a strong industrial base and thriving downtown district with a variety of retailers. Falls City is also proud to note we are an Economic Development Certified Community and a Heritage Nebraska Main Street community.
Falls City is located in a the great state of Nebraska 25 miles west of Interstate 29 and 14 miles east of US highway 75. With a new bridge that spans the Missouri River, there is easy access to and from Interstate 29.
Our state-of-the-art hospital, Community Medical Center, provides top-of-the-line medical services for our community and the surrounding area.
Falls City would not be the great community it is without the numerous citizens who volunteer their time to make Falls City a wonderful place so visitors can enjoy our gorgeous parks, our beautiful aquatic park with two water slides, Falls City Library & Arts Center, trail system around Stanton Lake, arboretum, new ball fields at Dallas Jones Park and a new dog park at Stanton Lake.
We also benefit from an excellent school system led by quality teachers and administrators.
Enjoy a night, a weekend or more in one of our many overnight accommodations.
Falls City is just steps away from many exciting day trip adventures so, "Come stay with us!"
Sincerely,
Jerry D. Oliver
Mayor, City of Falls City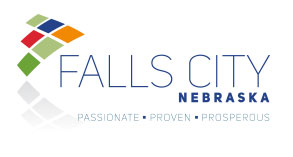 Famous Falls Cityans
Magicians, atheletes, artists and governors all once called Falls City their. Learn more about famous Falls Cityans by clicking here.
Brownville Concert Series
The mission of the Concert Series is to bring professional live performance to Southeast Nebraska. The program is varied and includes classical instrumental, Cabaret performances based on the American Songbook, Jazz (instrumental and vocal), Rock and Roll, Bluegrass, Vocal Recital, Opera and a specially commissioned Christmas Gala. Learn More
Find a Home for these Pets
Please visit the website of The Humane Society of Richardson County to see the animals available for adoption. Homes are urgently needed! Click here to learn more.